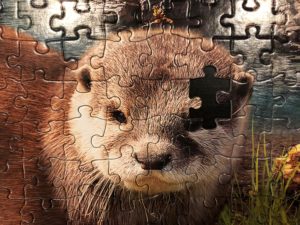 Step 1.
It's easy to misplace a piece, so make sure you look everywhere before declare a puzzle piece to be missing. Do not declare a puzzle piece missing before the puzzle is complete. Even for the most experienced puzzler, sometimes you are surprised where a puzzle piece fits. Puzzle pieces have a tendency to end up under chairs, stuck in sofas or carried off by children, spouses and pets. Check in the puzzle packaging as well, as often a piece or two may get stuck in the box or bag.
Step 2.
Determine the manufacturer of the puzzle and contact them for assistance. Each manufacturer will require different information from you to process your request. Some may requires photographs or a receipt. Some manufacturers may be able to replace an individual piece, others may replace the puzzle completely.
Step 3.
For items purchased at Premium Puzzles, if you've completed Step 1 and Step 2 and still have not received a proper resolution from the manufacture after allowing sufficient time for response back, please contact us. We'll do our best to help you out.
Step 4.
Still haven't received the resolution you were hoping for? There actually is a company that is able to reconstruct puzzle pieces individually. It is a paid service out of the UK found here: https://www.jigsawdoctor.com It's a great option for 2nd hand or out of print puzzles and larger puzzles where individual piece replacement may not be an option.